"Learning isn't the delivery of content. It's the experience of content-rich ideas, activities, processing time and reflection."
(from Kim Cofino's post Designing Learning Experiences.) Learning by doing. We learn when we teach someone else how to do it. Learning is an active not a passive process. As an educator and an educational technology coach, I know these things but I also know how hard it is to design truly effective learning experiences! It takes time. It takes lots of thought and trial and error. I ask myself a lot of questions–how can I get teachers to connect with the ideas and come out with meaningful understanding? What tools to I have to make the learning active? To prompt discussion and record thoughts and ideas as well as reflections?
Kim Cofino's post documents 9 steps to planning learning experiences. It also talks about how although there are steps 1-9, rather pieces 1-9, the steps in planning are often jumbled up. We start with backwards planning from what we want the learner to take away and then begin figuring out how best to deliver that. (see Kim's model below)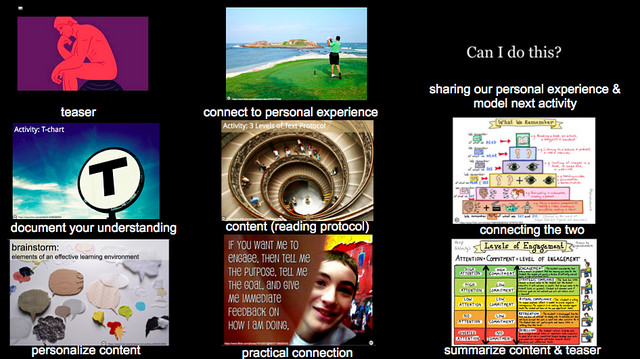 I recently led a pre-conference session at the Learning2 Conference in Warsaw in April. The session was about making ePortfolios effective and meaningful. It was the first time that I had ever had that much time with a group. I usually have one hour maybe 90 minutes, so 4 hours seemed like a massive chunk of time! I wish I'd had Kim's blog post to help me! I spent weeks and my late nights planning those 4 hours. Pondering over how not to simply bombard the participants with information, but to provide ways to connect and hopefully walk away with a better understanding of what portfolios could look like as well as practical tools to help them. I also found out that I would have teachers ranging from kindergarten to high school in the room so I would need to differentiate to make sure everyone got something out of their time. And, we all know, adult learners–especially teachers–don't always make for the best students–I'm guilty in many a staff meeting! In the end, I felt like I was reasonably successful, but certainly had room for improvement. 🙂 After reading Kim's post, I know where I'd like to focus my time in refining my workshop.
Kim's post will serve as a very good guide and is an excellent reminder that teaching well is a craft that requires time, energy, practice, reflection–whether it be for young children, 16 year olds or adult learners. It makes me think of one of our prompts from last month, the article from George Couros, People are Always Your Best Reosource. In it he writes:  "Valuing our people doesn't mean we don't push them; it actually means that we do.  We help them become the best version of themselves, but we start with their strengths, not their weaknesses." Do we all have the time to go through this essential process for designing our learning experiences? It also reminds me of how important it is to have a good teaching team who can support each other. Do all schools really embrace the idea that learning isn't about content delivery? What do you feel are the conditions for creating really successful, powerful learning experiences?
Image Credits:
• Designing Learning Experiences by Kim Cofino is licensed under CC BY 4.0
• Learning by Mikael Wiman is licensed under CC BY 4.0

Featured Image Credit:
• Learning by Mikael Wiman is licensed under CC BY 4.0